Monday.com for marketing teams 
monday.com for marketing teams is an intuitive and inclusive Work OS connects marketing execs to the data that matters, and marketing teams to the entire organization— making work move faster and impact easy to measure.
From chasing one-off tasks to building scalable and impact-driven business growth 
Different marketing teams have different workflows, but monday.com is flexible to meet the needs of all while creating a shared space to collaborate together. Instead of working twice as hard for half of the impact, monday.com powers marketing teams to plan together set clearly defined goals, and benefit from shared knowledge. 
A flexible platform for any marketing workflow
Building and optimizing your workflows is simple with drag-and-drop building blocks. Adding views, widgets, automations, integrations and more help streamline how your teams work and turn your account into a tailored solution just for you.
Content marketing 
Organize work requests into the team's workflow 

Sync content and creative teams around the same timeline and priorities

Collaborate with freelancers in a secure environment
Build and share content calendars to set expectations and goals
Track work progress, balance workload, and optimize spend
Monitor analytics to gain valuable insights into how your team works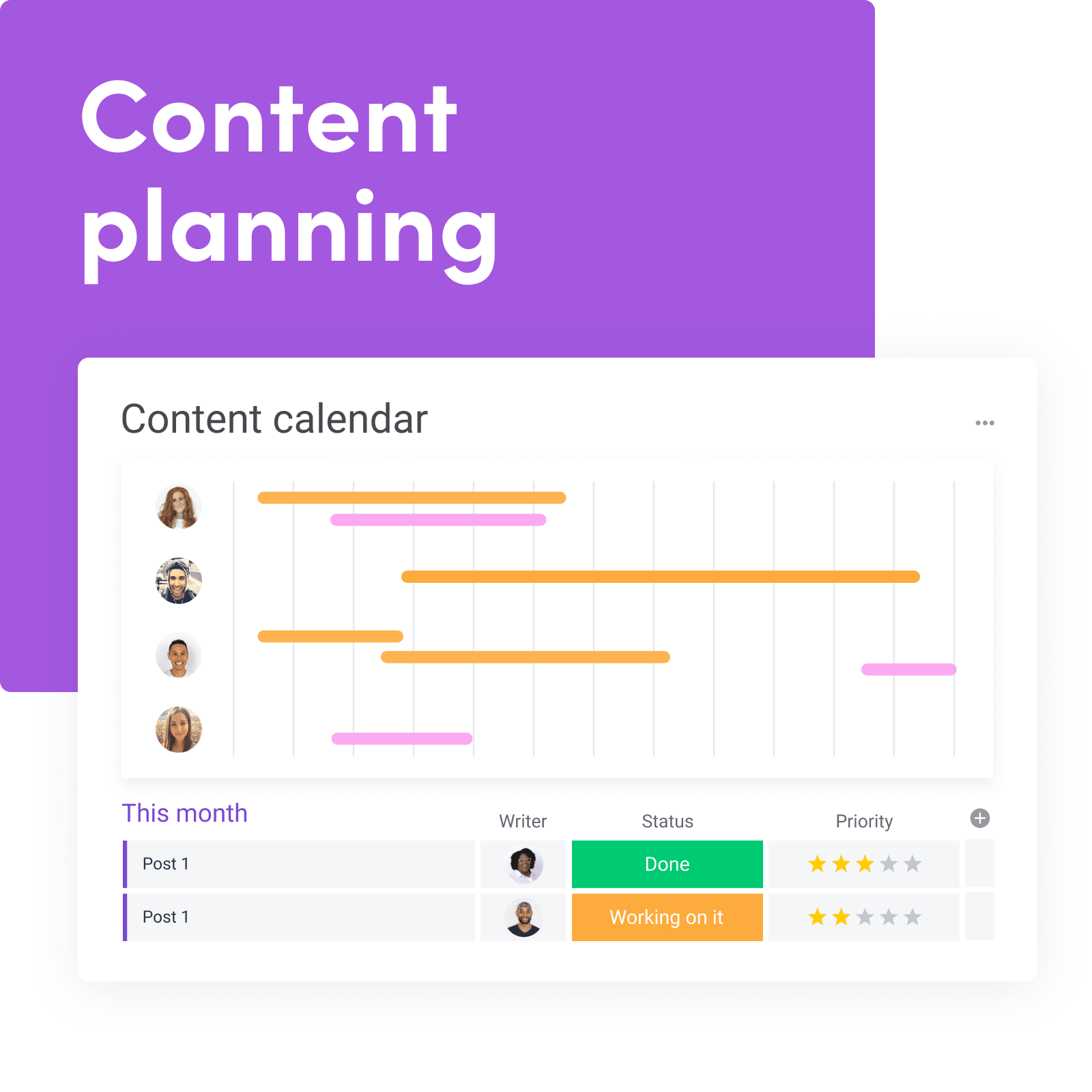 Acquisition marketing
Develop a scalable execution plan for each campaign; assign owners; identify milestones; and set priorities and due dates

Centralize all related assets in one place for structured and secured file management
Align on goals with different stakeholders, track campaign ROI, and compare with KPIs
Monitor budgets and minimize overruns using intuitive high-level overviews of all campaigns across your marketing channels
Event Management 
Plan every step of your event to perfection and track every detail—no matter how small— so nothing falls through the cracks

Collaborate efficiently with vendors, sponsors, and partners, manage approval cycles, and centralize knowledge and documents
Filter leads into boards and manage contact reach-outs
Access all operational details anytime, anywhere, and while onsite
Product Launch management 
Create a standardized process for all product launches

Manage all planning and execution of a launch in one place
Provide a shared space for cross-functional collaboration
Define performance metrics and KPIs to better measure successes and communicate product launch impact on the business
Accelerate all marketing work processes with monday.com 
Respond to business needs in a scalable way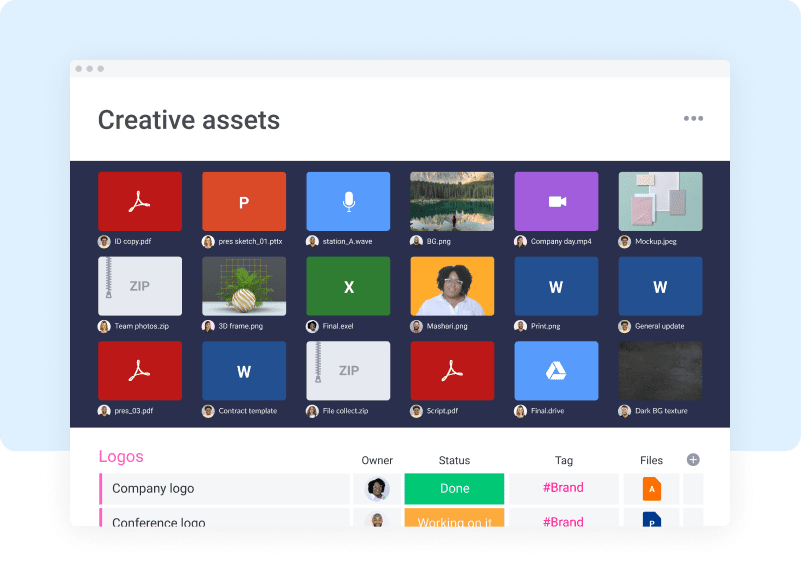 Businesses have to pivot fast in order to keep up with changing needs in the market, and marketing is often left trying to keep up. 
Having repeatable, scalable processes and easy access to high-level analytics means marketing can lead initiatives—not just try to keep up. Manage work requests with ease One-off requests should never be any team's full-time job. But, a one-pager here and a blog request there can end up eating up a lot of valuable time. monday.com uses boards and forms to build a clear and scalable process for integrating work requests into the marketing department's workflow. 
Marketing Analytics
Visually intuitive analytics help shed light on how your team works and where you can improve. Bring distributed teams together Managing all of the moving parts of a marketing team while working remotely can create a whole new set of challenges. monday.com offers an online workspace to collaborate, brainstorm, annotate, plan, and track all of the department's work without skipping a beat. Balance the team's workload at all
Sign up to monday.com South Africa  – Activation or Trial Link
Interested in exploring monday.com then hit the link below and start your monday.com journey, partnering with Syscor all the way.
Syscor monday.com trial and activation
Signing up to monday.com in South Africa and Africa
Schedule a call for monday.com Professional Services in South Africa and Africa
Once you have an active account Syscor can assist with a full consulting and professional services stack, including:
Process engineering
Workflow design
Workspace development
Board builds
Customisation
App integration
Implementation
Training
Support
Syscor is a sales, installation, and support partner to monday.com, having completed many successful projects on monday.com.  Thus making us very experienced.  Syscor has clients that range from Tanzanian Banks to small manufacturing businesses in South Africa, for instance. Our reach is completely continental.
Syscor's Consulting team are all qualified to deliver a full installation and support offering, meaning we offer turn-key services.  We will gladly share any referrals, in order to give you peace of mind. So you can embark on your monday.com journey, with confidence.
For more information check out our social pages